The Catering Industry - There's more than meets the eye…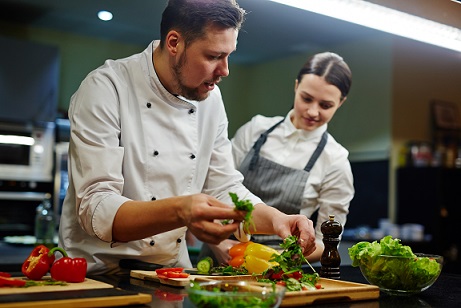 TCS Recruitment has built up an excellent reputation for providing countless opportunities for people across the UK to work in the Catering industry. We are keen supporters of the industry and are passionate about raising the profile of why it's such a fantastic area to work in. This article will explain in detail the reasons why there's more than meets the eye when it comes to the Catering world…
The Catering industry encourages skills that are transferrable into whatever career path you decide to take. For example; co-operation, communication, punctuality, team-work, attention to detail and creativity are all key aspects that you'll learn from working within catering and can be taken seamlessly into your next career move.
It Promotes creative thinking
The Catering Industry provides opportunities for employees to think on their feet and be pro-active in their decision making. No matter what role or environment you're in within the industry, the fast-paced nature of the work promotes creative thinking and for employees to problem solve any challenges that may arise.
It promotes good health and a positive mind set
Most catering roles are undertaken within a fast-paced environment, where you will be on your feet for much of your shift. Whether you're working as part of a waiting team or working within a busy kitchen, your role will be sure to keep you active.
It doesn't always feel like work
Because of the nature of the Catering industry, many roles provide the opportunity to work within a team environment. As such, this helps build healthy team environments where friendships are often made and work then becomes more enjoyable because of the people you're working alongside.
There are significant opportunities for growth
At TCS Recruitment we have emphasised significantly the importance of how work within the Catering industry can really help you develop, both personally and professionally. Many staff have who have worked with us have gone on to have fantastic careers both inside and outside the industry. However, they've always been quick to credit the experiences within Catering as being key to their development and progression.
James Browell, Managing Director, TCS Recruitment, said: "We are incredibly passionate about promoting the benefits of working within the Catering industry and we will continue to shout about the many positives that it can bring.
"If you're interested in a job within Catering then speak to our friendly team at TCS Recruitment and #StartYourJourney today."